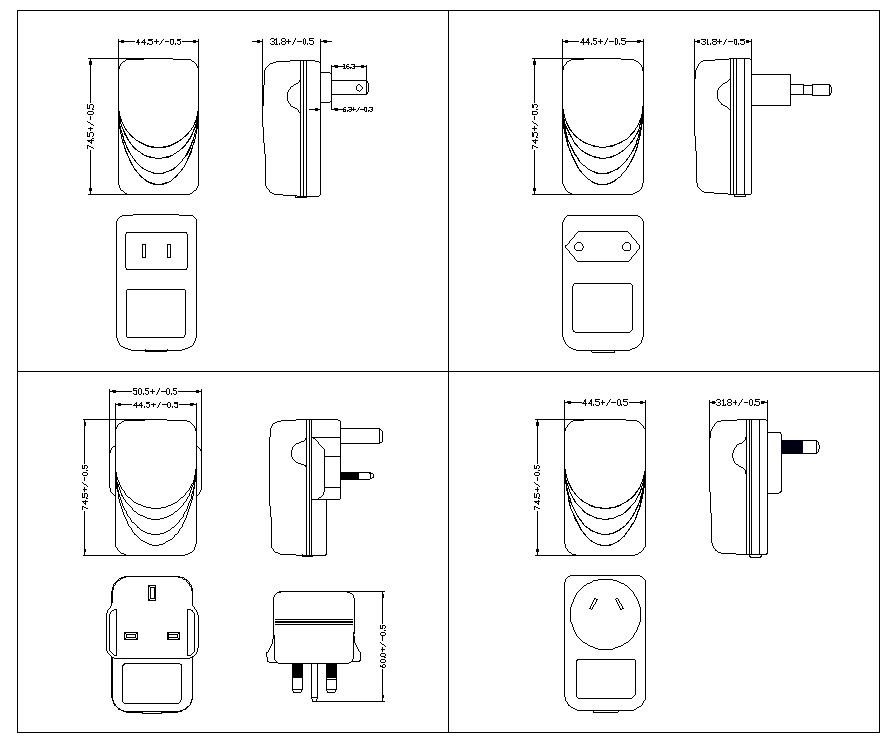 Model: WP18-1500800S
Specification
• Input: AC 100~240V
• Frequency: 50/60Hz
• Weight:85g
• Charging current: 800mA
• Rated power: 12W Max.
Electrical Parameters
DC Output: 15V0.8A SAA Wall mounted Power Adapter
Ripple and Noise: 150mVp-p Max.
Under nominal input voltage and nominal load, Parallel with a E-CAP 47uF and C-CAP 0.1uF at the terminal of output rail , measure by Oscilloscope with 20MHz Band width.
Turn on delay time: 3 seconds Max.
Hold up time: 5mS Max; Rise up time: 10mS max.
MTBF: 50,000 hours at normal input condition
Line regulation: less than ±5% while measuring at rated load and ±10% of input voltage changing
Load regulation: less than ±5%
Hi-pot dielectric strength: primary to secondary 3000Vac,10mA max, 60 seconds
Leakage current: 0.25mA max at 265Vac / 50 Hz
Insulation Resistance: 50MΩ min. at primary to secondary, added 500Vdc test voltage
Operation temp:0℃~40℃
Storage temp:-20℃~85℃
Storage Humidity: 5% -95%
Packaging & Delivery
50pcs/Carton
Carton size: 535*315*280mm
Delivery Detail:sample within 7 work days,25~35 days for bulk order
Features
• Charging mode:CC-CV(Constant Current-Constant Voltage)
• High efficiency and low power consumption
• Stabilized output and low noise
• Efficiency(at 100% load): >=90%
• Operating temperature:-20ºC ~ 45ºC
• Storage temperature:-40ºC ~ 85ºC
• Operating humidity:5%~90%RH
Safety protections
• Over Voltage protection - When the output voltage is over 150% rated voltage, the power supply will be protected, and will work normally when fault is removed or power on again.
• Short Circuit protection - The input power shall decrease when output rail short, the power supply shall no damage, and shall be self-recovery when the fault condition is removed.
• DIELECTRIC STRENGTH Hi-Pot: Primary to secondary, 3000Vac(or 4242Vdc) 10mA 60S(2 second for production)
Environmental and Safety Standard
RoHS- Compliant
China - GB4943
Europe - EN62368
North American - UL62368
Japan - J62368
Australia - AS/NZS 62368
IEC60335, IEC61347,IEC61558 ...