MODEL Number: WP24-1202000
Input and Output
AC Input voltage range:100-240VAC
Rated operating frequency:50/60Hz
Input current:0.5A Max.
DC Output voltage:5-23.9Vdc(Min.step:0.1V) C.V Mode
DC Output current range:10-4000mA(Min.step:10mA) C.C Mode optional
Rated power:24W Max.
Electrical Parameters
Ripple and Noise: 200mVp-p Max.
Turn on delay time: 3 seconds Max.
MTBF: 50,000 hours at normal input condition
Line regulation: less than ±5% while measuring at rated load and ±10% of input voltage changing
Load regulation: less than ±5%
Hi-pot dielectric strength: primary to secondary 3000Vac,10mA max, 60 seconds
Leakage current: 0.25mA max at 265Vac / 50 Hz
Insulation Resistance: 50MΩ min. at primary to secondary, added 500Vdc test voltage
Operation temp:0℃~40℃
Storage temp:-20℃~85℃
Storage Humidity: 5% -95%
Environmental and Safety Standard
RoHS- Compliant
China - GB4943
Europe - EN60950/EN61558/EN60065
North American - UL60950-1
Japan - J60950
Australia - AS/NZS 60950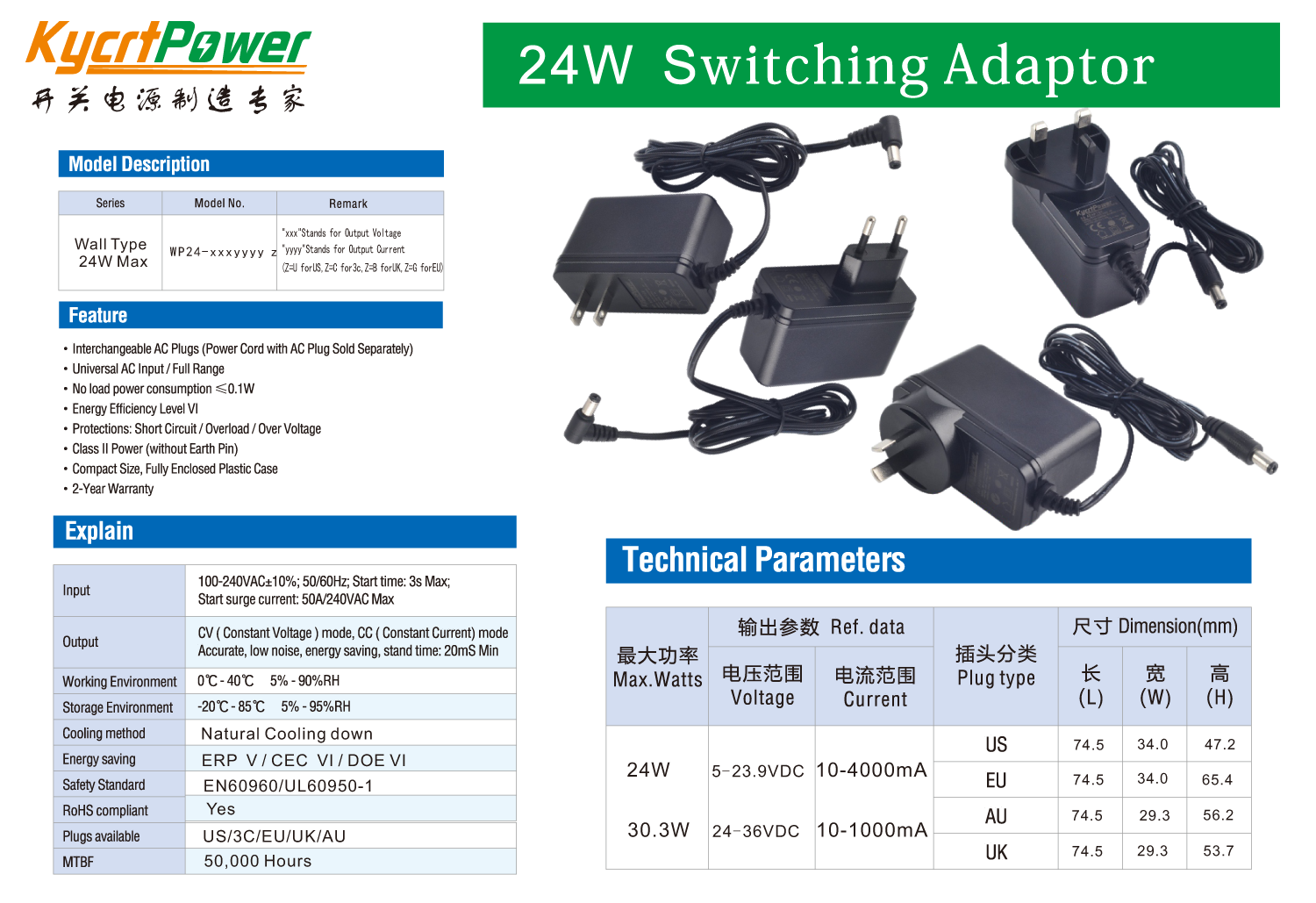 We are updating our web site, if you didn't find the suitable product, please e-mail your required specification to us.
Click and write to:
SALES@KYCRTPOWER.COM